Learning
Culture
Chief Learning Officer
Chief Empathy Officer
Strategy
Every day, it seems like there's a new report or study about how the future of work is changing. Technology is advancing faster than ever before, and with it comes new ways of working and collaborating. That's why it's more important than ever to create a learning culture within your organization that can keep pace with these changes.

According to industry findings, 70% of employees report that they don't have mastery of the skills needed to do their jobs. At the same time, data from The World Economic Forum suggests that with increased automation and technological integration, 75 million jobs will be displaced in the next ten years. Conversely, this transformation will also create new demand for an estimated 133 million new jobs with vast new opportunities for the future of work.
So, how can we prepare for this shift?
A recent global panel of 27 industry experts assembled using the Currnt market intelligence platform revealed that the COVID-19 pandemic and other factors are driving change in how we work and learn. It was also observed that improving digital skills will continue to be a priority, but the panelists emphasized the equal importance of developing soft skills such as communication, flexibility, empathy, and compassion.
Read on to understand how organizations can adapt their learning and development (L&D) strategies to keep up with the demands of the future of work.
Needs and Drivers of Change
The pandemic has significantly changed the way we work and learn. Panelists believe the impact of COVID-19 has introduced a change in many unforeseen areas. As a result, organizations have been forced to do business differently; with most staff required to work remotely or from home, business processes have had to change rapidly in order for organizations to survive.
According to experts, young employees are driving change in terms of using technology, wanting flexibility, and finding meaning in their job roles.
Pete Wallace, Digital Transformation & Program Management, shared that "Young employees need meaning, and they don't have time. They need their work environment to provide meaning they can relate to, whether that is social value, economic value, or ethical value. They expect change to happen quickly and as such do not have the time for traditional/legacy approaches."
Michael Tang, Head of Global Financial Services Digital Transformation & Innovation, pointed out that "Profitability is another main driver of change. However, the complexity is the balance between National and Global factors of everything from Supply Chains and sourcing and arbitrage of talent given the challenges, particularly during the pandemic.
"I believe there is a fundamental difference between Value Creation and Value Capture. The economic factors become apparent for organizations that can capture and monetize and commercialize value. An example is that Data creates a lot of value … but only a handful of organizations are Capturing and monetizing the commercial value of Data."
Panelists also indicated that remote teams have challenges and opportunities.
David Tigay, Growth and Innovation Manager, mentioned that "I think one of the biggest barriers to driving change is the lack of human connection we see in our society. Remote working has intensified this barrier and created obstacles to change and learning.
"It is hard to connect the meaning to the importance of learning when someone works from home. The lack of connection is making it hard for employees to connect to the larger goals of the organization.
"New connection tools are needed, but most importantly, companies need to schedule in-person days to create a sense of community."
According to Alan Inglis, "In the learning context, I have been in a virtual room with colleagues from 5 continents who I may never have met otherwise. So the broadening of perspective is something really positive to come out of remote working.
"Regarding the quality of interaction, we do need to make efforts to humanize remote working. In the 'old days' of offices, there was a lot of interaction in corridors, in break-out areas, at the coffee machine, over lunch, etc. When that is gone, how do we replace it?"
Digital Skills and Soft Skills are the keys to Future Demands
McKinsey & Company conducted a survey of 18,000 people in 15 countries, revealing skills that governments of countries may wish to prioritize.
Some foundational skills that were prioritized included:
Adding value beyond what is essentially done by intelligent machines and automated systems

Being able to operate in a digital environment

Being able to adapt to new ways of working and new occupations that emerge in the future.
Thiru Damodharan MBA, Marketing Insights & Innovation, noted that "The world is now transforming into a digital economy that is borderless. The presence of digital platform ecosystems is everywhere. Therefore, developing digital competencies has become equally important in a COVID-ravaged world.
"The pandemic has turned digital skills into bare necessities, so mastering a variety of tools from communication platforms to management solutions will be important to keep up to date with working digitally."
Pete Wallace explained that "Good firms are starting from the top down to understand the learning from the pandemic and WFH experiences. They are enabling their management levels to shift from 'Managing' to 'Leading' and focusing on the needed soft skills (think collaboration skills, empathy training, mindfulness, critical thinking, problem-solving, etc.) for leading diverse, distributed teams.
"Offices are becoming places for collaboration and teamwork with new spaces, and technologies such as Microsoft Surface hub, wireless displays, etc., are being introduced."
Ideal Solutions for Learning and Development Into the Future
Thiru Damodharan argued that "Ideal solutions don't exist in the real world. It takes the mindset of constant experimentation and failure to understand what really works and what doesn't. Here are some suggestions that could make internal learning and upskilling more effective in an organizational setting.
Create a culture of learning: Embrace a culture that supports an open mindset, an independent quest for knowledge, and shared learning directed towards the organization's mission, vision, and core values. It has been found that companies which effectively nurture their workforce's desire to learn are at least 30% more likely to be market leaders in their industries over an extended period.
Build upskilling and internal learning into Employee Performance and Development Plans: To get the entire team and the organization on board with the idea of upskilling and internal learning, company and team leaders can emphasize how these efforts will benefit employees' careers. For example, attaining certain skills could be tied to an employee's annual goals or future promotion."
Anvesha Poswalia, Marketer, noted that "Alignment towards a common goal is key. Employees must be made to understand the vision and the bigger picture of where the efforts are leading into. Both a short-term view and a long-term vision of the impact it is going to make is important for them to buy into it and dedicatedly work towards the learning and unlearning."
David Tigay, Growth and Innovation Manager, advised that "In order to get buy-in from staff to more readily meet your customers' needs, you need to engage the staff to assist in a voice of customer exercise. When customers, in their own words, tell companies of the need to pivot, employees are much more likely to buy in and even push for training. If employees can have some direction in their training or self guide themselves on a career path training, companies stop pushing modules, and employees start pulling them."
Leadership and Culture Matter Most when Managing Change
Based on the panel discussion, senior leaders need to align learning, lead by example, and track progress.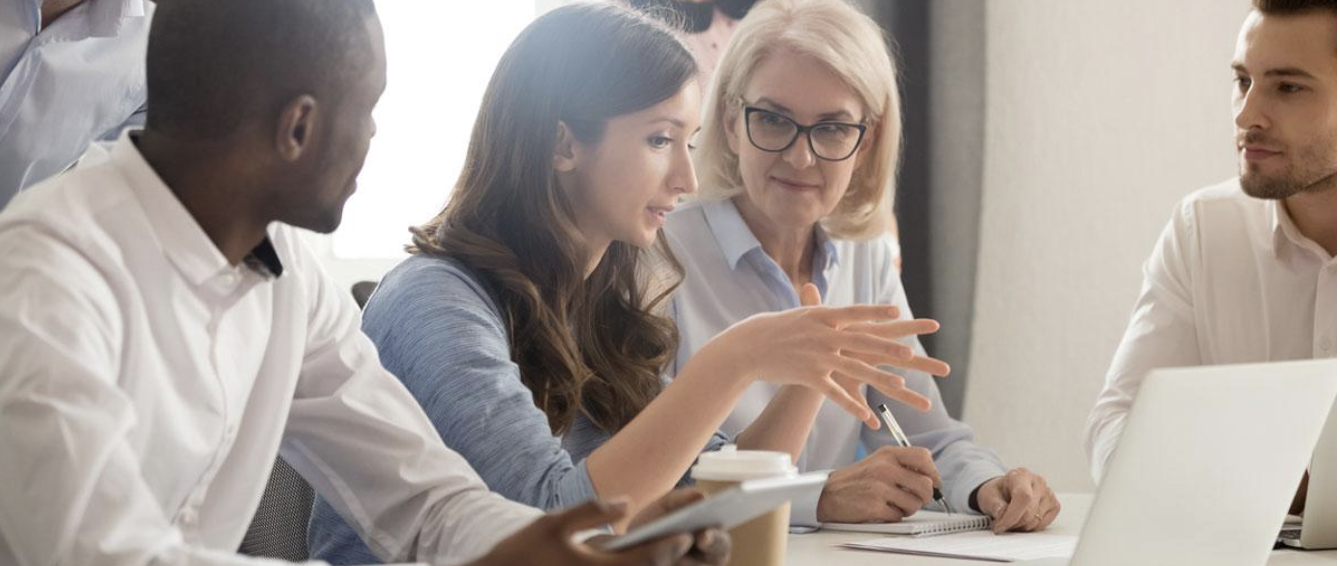 According to Anvesha Poswalia, Marketer | Digital & Brand Strategist, "Senior leaders propel the learning environment. They are the ones who lead the change within their teams. Some of the ways in which they can do this include:
Align the learning goals with the company's vision: When a certain training program is announced, senior leadership should cascade it to the teams and communicate how it impacts business or how it sets them up to be ahead of the competition. The 'why' of the learning program should be understandable.
Set timelines & milestones: Along with the L&D manager, they need to set specific milestones and timelines for their team to complete the training. They also need to set measurable goals and targets.
Account for the training time & give people the bandwidth: The leadership team needs to be sensitive about the time and commitment it would need to immerse in the program. They might need to deprioritize or delay certain projects. They should also ensure they give the teams the leeway to not attend to calls and emails during the training modules unless extremely urgent.

If the team looks at it as an added workload on top of what they're already doing, it will not serve the intended purpose.
Build a learning culture within the team: Encourage experimentation and learning in general, so it builds a culture where people are always hungry to learn.
Push back if needed: If a training program comes up at a business-critical time, and the team would genuinely not be able to put time and do justice to the program, the onus is on the leadership team to push back and reschedule the training.
Track progress on the training: Leaders need to be on top of how the employees are feeling about the program, and if there are any roadblocks/tweaks required.
Formalize it as far as possible: Any non-mandatory training program becomes relevant for only a select few who have a high penchant for learning. Not everyone has the same level of hunger to learn. Hence, all critical training should be a 'must-do' and not 'good to do'. Defaulters should be called out as well."
Keep the conversation going! Let us know your thoughts on how organizations can adapt their learning and development strategies to keep up with the demands of the future of work.
Curious How We Help Businesses Supercharge & Accelerate?
CONNECT & LEARN HOW
For More Information Please Contact