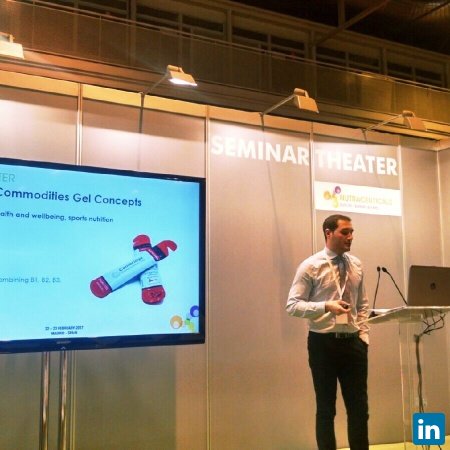 Zeke Stevens
Product Development Executive at Cambridge Commodities Ltd
Cambridge, United Kingdom
Focus:

Contributions are valued by peers

Accountability:

Thoroughly contributes in all areas

Sense of Urgency:

Consistently responds in a timely fashion

Team:

Frequently supports and responds to peers
VertriebSales
RezepturFormulation
ProjektmanagementProject Management
Team Organisation
Strategisches ManagementStrategy
Kritisches DenkenCritical Thinking
Kollaborative ProblemlsungCollaborative Problem Solving
ProduktentwicklungProduct Development
ProblemlsungProblem Solving
Marketing
GesprchsfhrungNegotiation
ZeitmanagementTime Management
ErnhrungNutrition
Summary
A passionate individual, dedicated to providing excellent supplemental products into the health, sport and food industries.

A specialist in bringing products from initial concept and formulation to the manufacture of shelf ready units.

A trained public speaker that has presented at various conferences internationally.

Always on the hunt for the latest market trends, pushing popular products forward while ensuring good solid nutrition is always at their core.
Experience
Product Development Excecutive
Cambridge Commodities Ltd
August 2016 - Present
A dedicated innovator within all sectors of the food and supplement industry. Combining excellent ingredient knowledge and formulation experience to create highly functional products. Capable of formulating across varying formats including ready to drinks, powder blends, capsules, tablets and functional foods.

Some other key skills developed during my career:
Developing custom flavours both sweet and savory.
Evaluation of potential new ingredients with interesting new properties and applications.
Project manager for research endeavors with universities. Establishing appropriate study designs and protocols to give novel and marketable data.
A passionate public speaker, keen to deliver content on a wide variety of subjects.

Earned By
Selected by sponsor:
Comments on posts: