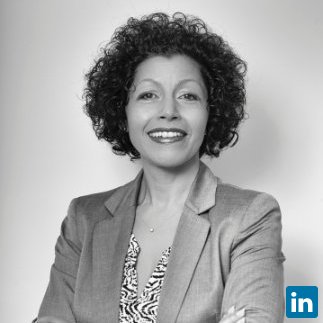 Patient Advocacy and Solutions- Consultant at Novellas Healthcare
Principal Consultant at EL8 Consulting
Awards Earned:
0
0
0
0
0
Level: LEVEL 01 (12mo pts: 0 pts)
Lifetime points: 0 pts View details
Thought Leadership:
% performance based on average of all engagements
Selected: % of applied
Recognized: Contributions valued by peers
Peer Support: Percentile of active participants
Profile
Summary
A management consultant with a degree in Biochemistry and an MBA combined with over twenty years' experience in the pharmaceutical Industry. My core areas of expertise are strategic marketing and patient-focussed initiatives (including patient recruitment and retention, patient education and empowerment).

I work with senior managers to identify and address their key business priorities, developing both strategic options and implementation of the solution.

With extensive experience in marketing, alliance management and consultancy across several therapeutic areas, I am able to challenge assumptions, drive innovative solutions and manage projects to ensure objectives are achieved.

My approach is strengthened by my passion, depth of understanding and breadth of experience.

Specialties:
Patient Relations and Alliances, Stakeholder & Consumer Insights, Development & Implementation of Strategic and Tactical plans, Product Launch planning, Marketing Communications, Extensive experience in several TAs (Epilepsy, Rheumatology, Oncology, Transplantation, Parkinson's Disease, HCV, Rare Diseases)

Available for long and short-term projects.
Experience
Patient Advocacy and Solutions- Consultant
Novellas Healthcare
January 2015 - Present
Develop innovative patient solutions and coaching programs to support people with chronic illnesses toward better self-management and treatment adherence
Implement, manage and coordinate patient solutions in the country
• Responsible for input into the design, implementation and management of nurse-based patient support programs (PSP) for pharmaceutical companies and healthcare institutions.
• Project lead in coordinating the nurse work stream with service centre and patient relationship management partners as an integrated patient support solution
Principal Consultant
EL8 Consulting
January 2014 - Present
EL8 (ELATE) Consultancy is a specialist consultancy service to the pharmaceutical industry, developing and implementing successful marketing and stakeholder/patient strategies to support business goals.

EL8 Consulting abilities encompass strategic thinking, creative solution development and operational excellence.

∞ Create intelligence ∞ Implement strategies ∞ Deliver Results.

Available for long and short-term projects.
Skills
Product Management
Patient Education
Competitive Intelligence
Business Strategy
Patient Advocacy
Business Analysis
Sales
Market Research
Business Alliances
Product Marketing
Pharmaceutical Industry
Strategy
Market Analysis
Sales Effectiveness
Forecasting
Market Access
Product Development
Product Launch
Business Development
Therapeutic Areas
Pharmacovigilance
Biotechnology
Marketing
Marketing Management
Start-ups
Biopharmaceuticals
Oncology
Global Marketing
Hospital Sales
Clinical Development
Rheumatology
Life Sciences
Pharmaceutical Sales
Management
close
Partner Description