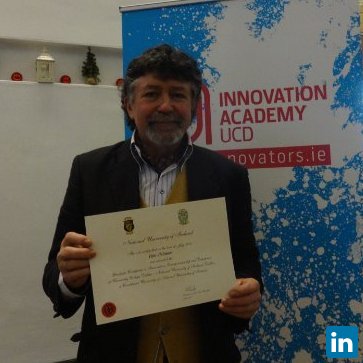 Peter John O'Connor
Owner/manager at Experience Medieval Archery and Glenribbeen Music School
location_on Ireland
Owner/manager at Experience Medieval Archery
Director at Experience Medieval Archery.
Awards Earned:
0
0
0
0
0
Level: LEVEL 01 (12mo pts: 0 pts)
Lifetime points: 15 pts View details
Thought Leadership:
% performance based on average of all engagements
Selected: % of applied
Recognized: Contributions valued by peers
Peer Support: Percentile of active participants
Profile
Summary
Started as hotel trainee-manager but at college studied construction; worked in Amsterdam as owner/manager/worker small construction/decoration company 18 years we renovated a lot of old canal-house fronts (and boats) I spent some time working with the Rosenstock-Huessy House in Haarlem NL which influenced me in later life
I also played music in a traditional Irish band; Sin É and helped run events in clubs/cafés.

Returned to Ireland with my Dutch wife, Els, in 1998 to run tourist business. Owner/manager of B&B and self-accommodation apartment - all specialised in eco-friendly construction and management Passed the ISO14001 and won the E.U. Flower Award for eco-accommodation (1 of 125 in world) Passionate about pushing the boundaries in sustainability we adhere to ISO26000 and 5001.

Further to that I've passed with Merit 1 a BSc in Small Medium Enterprise at WIT and GreenBelt; LEAN/SIGMA-6 at CIT, Cork as well as Computerised Management Accounting. I've also certificates in Building Energy Ratings (BER-new-build), green-build, eco-unesco and green tourism operator and O.U. studies in Eco-sustainability.

Specialities: Considered a natural at conflict resolution and as facilitator. I'm a great communicator and I tend to get (and keep) enthusiastic about my projects

While I love working in tourism and would love to help run a small hotel or alternately work with people as coach/HR; eco-waste procedures are something I'm especially interested in, this would help me make savings in such an establishment.

I've spoken on eco-living at events in Newfoundland, Germany, Wales and Ireland
I would describe myself as a musician & entertainer: a coach and a facilitator.
I love to help people find the best in themselves.
Currently studying QQI-8 Certificate in Business Development course at AIT hoping to get into HR.
Experience
Owner/manager
Experience Medieval Archery
April 2015 - Present
Director
Experience Medieval Archery.
January 2015 - Present
Currently open at Glenribbeen Lodge, Glenribbeen, LISMORE, Co Waterford, only, until further notice. However I'm looking for events, garden parties and fairs to entertain and coach all ages in medieval archery.

Experience Medieval Archery was launched within Waterford's Museum of Treasures in 2015.
2016:
The hands-on-medieval archery coaching launched in the Museum of Medieval Treasures in Waterford is now in holding-mode awaiting the return of the long evenings but kept alive at Glenribbeen. Meanwhile I operate as a tour-guide in the Sunny South East.
A hands-on active-display of archery artifacts and the use of longbows (warbows) will be demonstrated and various arrows from bone-head to flint to drop-forged to tempered armour-piercing warheads. After demonstration visitors will be offered the chance to pull a long bow and loose real arrows.And buy bows and accessories.
2017:
The workshop will also continue to tour medieval (Heritage) days, folk-festivals, schools and corporate events that help senior staff bring focus and fun to their work.
The whole workshop can be easily moved and set up in an open space where a medieval tent will add colour and protection with professional archery netting to provide safety.
Skills
Sustainability
Social Media
Marketing
Public Speaking
Tourism
Management
Event Management
Marketing Strategy
Advertising
Music
Training
Customer Service
Green Building
Public Relations
Online Marketing
Social Media Marketing
Teaching
Entrepreneurship
New Business Development
Social Networking
Environmental Awareness
Email Marketing
Coaching
Energy Efficiency
Renewable Energy
Sustainable Development
Project Management
Entertainment
Marketing Communications
People-oriented
Business Strategy
Mentoring
Research
Coaching medieval archery
Hospitality
Business Development
Musician and story teller - I tell stories and add music on violin, mandolin or whistle to add to the experience. Mostly on Irish stories or stories on archery.
close
Partner Description