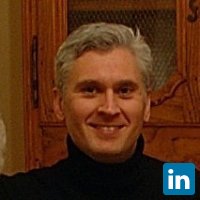 President, Engagement Manager at Corverity Corporation
Awards Earned:
0
0
0
0
0
Level: LEVEL 01 (12mo pts: 5 pts)
Lifetime points: 3 pts View details
Thought Leadership:
% performance based on average of all engagements
Selected: % of applied
Recognized: Contributions valued by peers
Peer Support: Percentile of active participants
Profile
Summary
Program Manager, Process/Systems Engineer and Artificial Intelligence solution expert with deep expertise in healthcare and support operations. Extensive hands-on experience building enterprise-level software architectures and optimizing operations. Delivers results in both minimally structured organizations and mature enterprises. Disciplined management style coupled with an ability to deliver creative, systematic solutions:
• Developed compelling business case for an AI analytics platform and delivered it to the Client
• Re-engineered data operations for a large, integrated healthcare firm
• Re-engineered data operations for a large financial institution
• Designed, developed and managed business intelligence instrumentation, data warehouse, ETL system and operations roadmap/strategy for a large, product-support site
• Executive in 6 high-technology startups
• Recruited and managed multiple teams of product, project and engineering managers and offshore development teams
• Consultant in business intelligence, process & product design for the following companies: Cisco Systems, Blue Shield of California, 3Com, Lockheed Martin, Trimble Navigation, Loral Space Systems, Tencor, Stryker Endoscopy, HP and NOAA
• Designed, developed and launched one of the first industry-specific web portals connecting distributors and manufacturers
• Product manager of one of the first hosted eCommerce and supply chain systems
• Designed, launched and sold 2.5M units of a promotional product
• Successfully designed, managed, and launched multiple software development, product development, and business process re-engineering projects. Developed numerous marketing and business requirements documents, product roadmaps, reports specifications, and governance & policy documentation.
• Holder of 5 US and international patents
• Northwestern Univ. McCormick School's MMM program Alumni Council President
• MMM Advisory Board Member
• Kellogg Alumni Council member
Experience
President, Engagement Manager
Corverity Corporation
September 2003 - Present
- As Project Lead, coordinated engineers, analysts and client stakeholders to deliver an artificial intelligence, deep learning analytics platform for a large enterprise.
- As Project Lead, coordinated various systems and business operations stakeholders to develop the process to collect/edit provider profile data for a large, integrated healthcare firm.
- As Project Lead, designed and developed a case management database for a large healthcare provider.
- As Program Manager, led the effort to re-engineer the inbound-data operations for a large financial institution's business intelligence data warehouse.
- For multiple mid-sized clients, executed the collection and documentation of vendor capabilities for replacing HR and Payroll processes and operations.
- For a large networking technology company, managed the design and development of a business intelligence data warehouse for a collaborative support website.
- As Business Architect on an integration project for a large insurance company, managed a team of 8 domain experts (client and consultants) to re-design the product development operations for a Trizetto/Facets platform.
- As Product manager, developed a service to assist businesses to identify and communicate with their trading partners in a secure and compliant manner.
Skills
eCommerce
Advisory
Cisco
consultant
Design
development
Engineering
ETL
Governance
Healthcare
Management
Marketing
Operations
Patents
Business Intelligence
IT Strategy
Process Optimization
Support
Software Design
Product Management
Project Management
azure
Strategy
Start-ups
Program Management
Business Strategy
Cross-functional Team Leadership
Product Development
E-commerce
Integration
Business Process
PostgreSQL
Software Development
Pentaho
Entrepreneurship
Business Development
Tableau
Consulting
Leadership
SaaS
Product Marketing
Strategic Planning
Mobile Devices
SQL
Vendor Management
Six Sigma
Product Design
New Business Development
Cnc
Team Leadership
Contract Negotiation
Business Process Re-engineering
IP
Identity Management
Operational Analysis
ETL Tools
Data Visualization
Solution Selling
Microsoft Access
VBScript
JavaScript
database schema
Data Modeling
Data Analysis
MFT
Earned By
Comments on posts:
Likes:
close
Partner Description