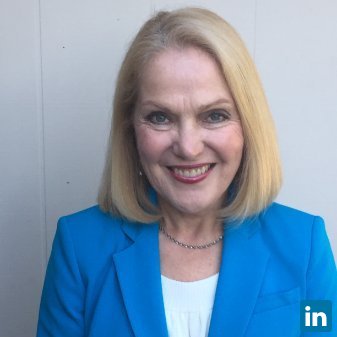 Carolyn Rosenblatt, Aging Expert, RN, Attorney
Aging Expert, Consultant at AgingParents.com and AgingInvestor.com, Forbes blogger
location_on San Francisco Bay Area
Expert in Aging, RN-Attorney, Author, Mediator, Consultant at AgingInvestor.com and AgingParents.com
Awards Earned:
0
0
0
0
0
Level: LEVEL 01 (12mo pts: 0 pts)
Lifetime points: 2 pts View details
Thought Leadership:
% performance based on average of all engagements
Selected: % of applied
Recognized: Contributions valued by peers
Peer Support: Percentile of active participants
Profile
Summary
Elder law Attorney and Registered Nurse. Consultant on aging issues in families, in family owned businesses and for financial services professionals with problematic aging clients.
We offer facilitated family meetings, resolution of disputes, and educational programs for financial professionals whose clients are showing signs of diminished capacity.

At AgingParents.com: We offer coaching and family meetings, in person and by phone or Skype. We mediate conflicts about elders, as well as provide dispute resolution of legal cases involving elders or their estates.
We serve as neutrals in your conflicts. Working as a team with a licensed psychologist, Dr. Mikol Davis, we help you solve your problems with crisis, difficult decisions, dementia issues, fights about money, relationships and caregiving.
We have particular interest in preventing and stopping elder abuse, particularly with finances.

At AgingInvestor.com: We offer educational webinars to financial services professionals who have aging investors, developing senior-specific policies and providing training for handling cognitively impaired and difficult aging clients. We have techniques to offer you to reduce the failure rate of intergenerational wealth transfers. Live workshops are available now. We offer presentations at your conventions and professional group meetings about the issue of diminished capacity and financial decision making. We can help you find a clear action path with our expertise in aging issues.

Special skill areas: Elders with dementia, loss of financial decision-making capacity, financial elder abuse, elderly driving, public benefits for aging persons, calming sibling disputes, talking to seniors about finances, and healthy aging. We offer solutions from our unique combination of health care, elder law and mental health skills and experience.
Experience
Expert in Aging, RN-Attorney, Author, Mediator, Consultant
AgingInvestor.com and AgingParents.com
January 2005 - Present
I offer expertise in age-related issues to families, professionals and institutions. We are a nurse-lawyer, psychologist team assisting those who are caring for aging parents, elders in need of support and direction, and for families struggling with related issues concerning their aging loved ones.
I give legal and healthcare advice, do family meetings to help resolve disputes, and coach caregivers through transitions. We offer education and training in developing senior-specific skills to the financial services industry.
Books I have written:
The Family Guide to Aging Parents: Answers to Your Legal, Financial and Healthcare Questions published May, 2015, is available at AgingParents.com, on Amazon.com and at Familius.com, publisher.
Working With Aging Clients: A Guide for Lawyers, Business and Financial Professionals was published by the American Bar Assn. June, 2015. Available at AgingInvestor.com, ShopABA.org and on Amazon.
Succeed With Senior Clients, A Financial Advisor's Guide to Best Practices, June, 2016, available at AgingInvestor.com and Amazon.
Skills
Elder Law
Public Speaking
Mediation
Facilitation
Facilitate family meetings about elders
Home Care
Long-term Care
Elder Care
Caregiver education
Compassion
Healthcare Management
End of Life
Seniors
Case Management
Coaching
Medicare
Powers of Attorney
Caregiving
Case Managment
Patient Advocacy
Care Planning
Alzheimer's Care
Facilitators
Education
Alzheimer's disease
Public Health
Writing
Registered Nurses
Community Outreach
Nursing
Hospitals
Nonprofits
close
Partner Description