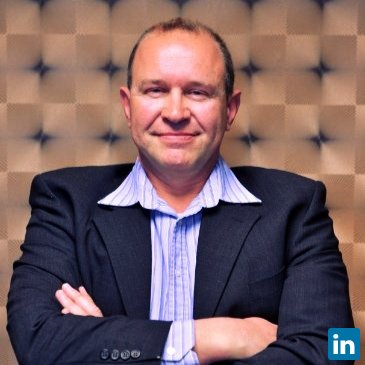 Risk Officer (Mondial Team) at SANBS
Kids Ministry partner at Doxa Deo
Awards Earned:
0
0
0
0
0
Level: LEVEL 01 (12mo pts: 0 pts)
Lifetime points: 5 pts View details
Thought Leadership:
% performance based on average of all engagements
Selected: % of applied
Recognized: Contributions valued by peers
Peer Support: Percentile of active participants
Profile
Summary
Enterprise Risk Management (ERM) Goal: A passion to implement ERM and satisfaction when management realise that ERM must be integrated into the company's strategic planning and operational processes.

Country experience includes consulting/training in South Africa (Resident), Zimbabwe, Namibia, Botswana, Zambia, Ivory Coast, Sierra Leone, Guinea, Liberia and Saudi Arabia.

Mining Industry experience (Coal, Diamonds, Zinc/Copper, Ferro Alloys, Upstream Oil, Downstream Oil, Polymers, Synthetic Fuels) consists of ERM consulting and Internal Audits.

Industrial and Manufacturing Industries experience (Forestry and milling, chipboard manufacturing, heavy metals, textiles and more) consist of ERM consulting and Internal Audits.

Hospitality industry experience consists of being Chief Risk Officer at a REIT sector JSE listed company being responsible for the development, roll out and reporting to the Executive on ERM activities, as well as Internal Audits.

Healthcare experience includes being part of the Risk Officer team at SANBS and facilitating risk and compliance workshops at Bonitas Medical Aid, as well as supporting financial management of a day-hospital and supporting a Healthcare management software solution in the past.

Public Sector experience includes Compensation Fund, Dept of Labour, GPAA, SETAs), Eskom, Limpopo Tourism, Magalies Water, Motor Industry Bargaining Council, EDI (Pty) Ltd, DRDLR, DST, various metropolitans and municipalities and many others in all spheres of government consists of ERM consulting and Internal Audits. I also participated in developing National Treasury's Public Sector Risk Management Framework.

ERM experience includes development and implementation of ERM process methodologies, ERM software (CURA , IsoMetrix, RubiQ, BarnOwl and SAP GRC) selection and implementation hundreds of ERM risk assessments and training sessions.

I also held the position of financial manager at a Textile mill including responsibility for HR and IT.
Experience
Risk Officer (Mondial Team)
SANBS
March 2017 - Present
Responsible for implementing ERM including: Updating of ERM policies and procedures; Risk assessments and reporting to the Board, Board Committees, Exco and management; Managing change through stakeholder engagement, training and generally embedding a risk culture ensuring that uncertainties, both positive and negative, are identified and managed to within the organisation's risk appetite and tolerance, where possible, to achieve and exceed objectives. We apply ISO31000, the relevant COSO sections, KING IV and other best practice risk management principles where it is applicable to ICT, Safety, Environment, Health, Quality, Legal Compliance, etc.
Kids Ministry partner
Doxa Deo
January 2011 - Present
I am involved in the Kids Ministry sharing, with the rest of the Doxa Kids team, Gods Word with Grade 1 and 2 kids.
Skills
Enterprise Risk Management
Risk Advisory
ISO 31000
Risk Assessment
Risk
Risk Management
Operational Risk Management
Internal Audit
Financial Control
Certified Internal Auditor
Compliance Audits
Managerial Finance
Financial Management
Health and Safety risk mangement
Health and Safety risk assessments
Financial Risk
SOX
Audit
Auditing
Management Consulting
Quality Auditing
Internal Controls
Business Process
@Risk
Governance
COSO
Corporate Governance
IT Audit
Assurance
IFRS
Operational Risk
Accounting
Financial Analysis
Audit Committee
Sarbanes-Oxley
Forensic Accounting
CISA
Basel II
Fraud
Risk Analysis
IT Risk Management
Finance
SAS70
Business Continuity
Management
GRC
Basel III
COBIT
Solvency II
AML
close
Partner Description